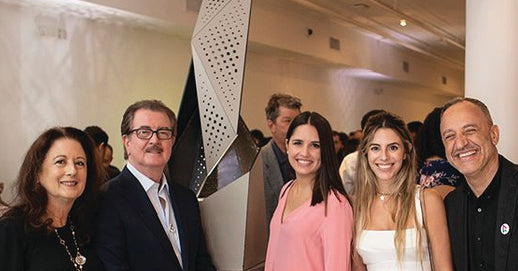 Trespa® Meteon® Featured at Festival of The Trees
Trespa® Meteon, which is known for its distinct style, compelling aesthetic, and nearly limitless design possibilities collaborated with Echeverria Design Group, an award-winning Miami design firm to create a unique and effortless creation, just in time for the holidays.
On November 15, 2018, the Florida International University's Interior Architecture Department kicked off the 32nd Festival of the Trees, a key social occasion for local design professionals. The fundraising event hosted many tree sponsors, displays and auctions of the participating artwork, with all proceeds going towards the program's student scholarships.
The finished "Tree" is a wonderful display of collaboration featuring a combination of outstanding design from Echeverria Design Group, spectacular M06.4.1 Amber Trespa® Meteon metallic panels and donated and fabricated by Quick Ship Panels, North America's largest distributor of Trespa® panels.
See more at the Echeverria Design Group Instagram page.
How was the overall atmosphere?
The Festival of the Trees was held at the Moore Building. It has a Zaha Hadid installation in the atrium and it accommodated 500 plus people, with 40 trees designed by architects and designers all over South Florida.
Echeverria Design Group was very happy with the product, support, collaboration and timing of the trees. Having so many inspiring trees to look at we were delighted to have a standout piece.
Below, you can view a quick time-lapse video of our process.

To request a sample of the materials used, or any other Trespa® Meteon® please visit: https://quickshippanels.com/collections/order-samples