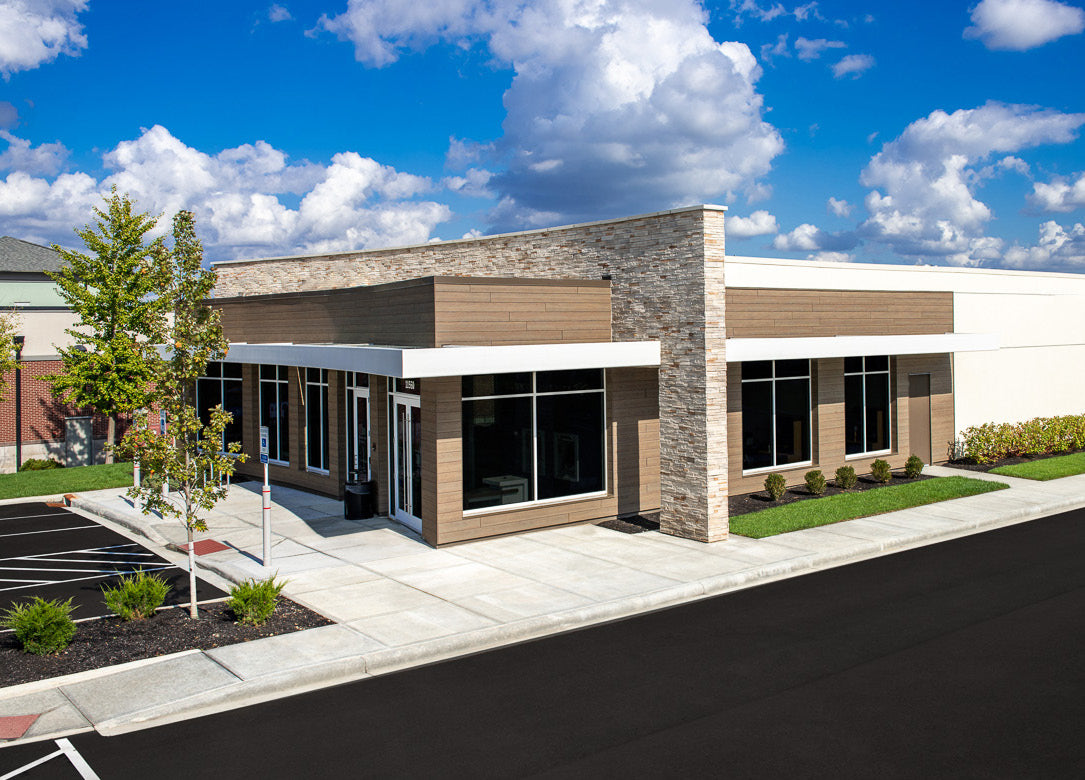 FINANCIAL INSTITUTIONS, NORTH AMERICA (USA) SPRINGDALE, OH
Banking in the United States began in the late 1790s along with the country's founding and has developed into a highly influential and complex system of financial services across North America. There are approximately 4,500 FDIC-insured commercial banks in the United States, offering innovation in technology and security. With similar trends in architecture, we are now seeing banking institutions apply the same standard of excellence to their exterior finish selections. Longevity and minimal maintenance have become the norm for exterior cladding products especially in businesses that see a high volume of traffic such as financial institutions. COVID has also set a new standard for products to provide next-level antibacterial performance as well as incorporating products that will endure the changing environment without impacting it. Performance is key not only in business but in building products as well.
TECHNOLGY
Trespa's advanced inhouse technology offers the performance necessary to represent and maintain iconic brand imaging over the life of the building.
Trespa® is a decorative high-pressure compact laminate (HPL) with an integral surface manufactured using Trespa's unique in-house technology, Electron Beam Curing (EBC). The blend of up to 70% natural fibers and thermosetting resins, manufactured under high pressures and temperatures yields a highly stable, dense panel with good strength-to-weight ratio. Trespa products also possess exceptional weather resistance. Testing shows no signs of deterioration during extreme weather conditions such as intense freeze thaw activity, salt water and air exposure, desert heat and direct Florida sunlight. Independent Bream Testing provides a life expectancy of over 50 years and with existing projects in place that are over 40 years old, Trespa has proven to be beyond comparison for offering best fade resistance, scratch resistance and providing a graffiti proof surface.

DELIVERY
ATS offers a state-of-the-art distribution model that supports an efficient, national, multi-unit roll out. Included in the program is installer training and certification to meet Trespa's strict installation guidelines. GBA Architectural Products met all requirements for installation certification and were meticulous in executing a planned schedule even during the current COVID-19 challenges being experienced on all construction sites.
Scott Kershaw from Fiorilli Construction mentioned "The product is there by the asked date despite COVID-19 unlike other companies notorious for delays."
We have a great team of professional engineers, estimators and fabricators, a talented marketing team and an award- winning inside sales team to provide you with excellent support and service.
With our Quick Ship Panel website, contractors have direct access to our extensive inventory program 24-hours a day - making QSP a source for fast and easy ordering. As Trespa's international distribution partner for North America's retail, hospitality, and multi-unit program, we are uniquely suited to help retail and hospitality partners with the distribution of Trespa panels to ensure accurate deliverables to maintain a cohesive corporate Identity.
GBA Architectural Products' work on this project is an excellent example of how important the Quick Ship Panel delivery process is. The project was faced with unforeseen delays, and standard QSP packaging protected the material until it was ready to install. Trespa recommends and provides a standard for storing material held on site.
Please provide your email address below to download.