Understanding HPL + The Benefits of Rainscreen Cladding
Where there is no lamination, there is no delamination.
Laminates are known to be inexpensive, unattractive and overall a low-quality product.  This is because with laminates a thin sheet is secured on to a fiberboard, making the products easily delaminate. High-Pressure compact laminates (HPL) however do not have those problems simply because they are one homogenous panel.
With HPL panels, sheets of wood-based fibers are impregnated with thermosetting resins, and a transparent top coat is added and cured using Electron Beam Curing (EBC). This creates a strong resistance to weather and light, making the panels durable. The final process involves using high temperatures of heat to create one homogenous non-porous material.
Thus the HPL panels:
Can't be delaminated
Is weather resistant
Is color stable and fade resistant
Features a long-life performance
Is low maintenance and is easy to clean
Is solid and sturdy
Allows for ultimate design freedom
Weather Tests
HPL panels with Electron Beam Curing (EBC) having gone through extensive Xenon weather tests. In these tests, the climate in stimulated to reflect one of Florida's, which features direct exposure to the sun, rain, high levels of heat, humid and drastic cooling. In the 3000 hours of testing, which represents 10 years of  exposure to Florida's climate there was no impact on EBC cured HPL panels.
Similarly, on ground projects completed using HPL with EBC coating, such as the District Police Station in The Netherlands, demonstrate just how weather resistant the panels are. Compared to a new color swatch of Trespa's HPL Panel the building demonstrates an exact color match with no fading what so ever. Color integrity has remained even after 30 years!
EBC cured HPL panels also perform equally well in extreme weather fluctuations.  Hedlunda, Sweden is located north of the 90th Parallel making it the closest building of its kind of the Arctic Circle. From extreme cold to a thawed summer and spring, Hedlunda faces a lot of temperature changes, but Trespa's panels remain unaffected.
HPL production process offers multiple design opportunities.
Multiple decors (Uni Colors,

 

Metallics,

 

Wood grains)
Variety of textures (Matt, Gloss, and Rock Finishes)
Single or double-sided color capabilities
Multiple panel sizes
Multiple panel thicknesses
Routering
Mitered corners
Geometric Shapes
Advantages of Rainscreen Cladding Systems
Rainscreen cladding has many benefits including energy efficiency and the prevention of water accumulation.  Rainscreen panels have contributed to the energy efficiency of many exciting projects such as the award-winning, UBC's Tall Wood Building.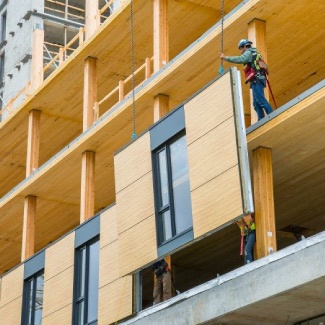 Benefits of Rainscreen cladding, include:
Prevents moisture accumulation
Airflow dries condensation in the cavity
Drainage through ventilation
Reduces solar heat gain on the building
Transports migrated moisture
Protects against any weather condition
Accommodates exterior insulation
Protects exterior insulation
If you want to learn more, we can set up a CEU or Lunch & Learn for your organization, simply contact us.