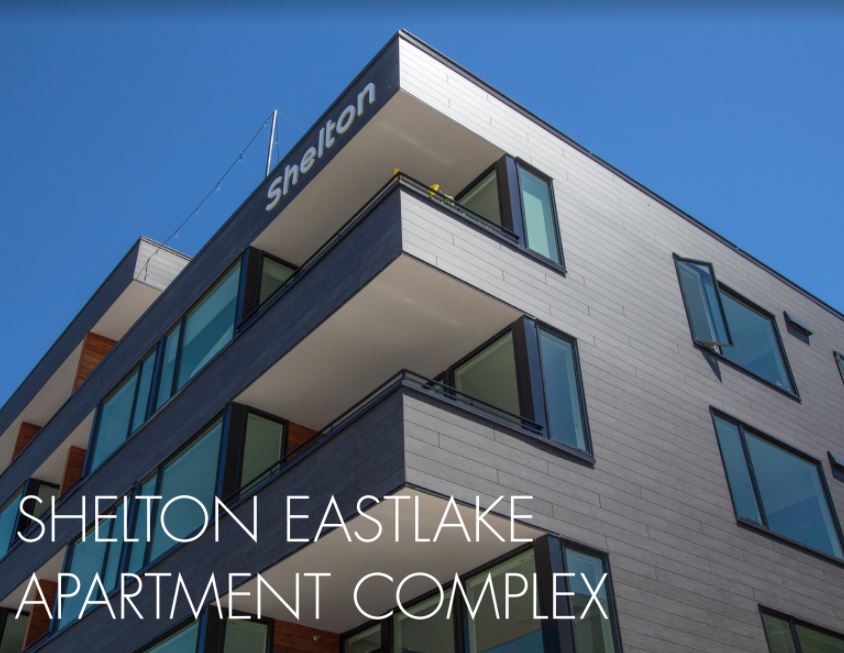 SHELTON EASTLAKE APARTMENT COMPLEX
TRESPA PURA NFC® HELPS MODERN MEET TRADITIONAL IN MULTIFAMILY RESIDENCE
In Seattle's sought-after Eastlake neighborhood, housing is becoming scarce.
The community is sandwiched between the city's beautiful Lake Union and main
freeway, creating a popular destination with limited real estate. Recognizing the
need for improved housing in this land-strapped space, Shilshole Development,
LLC, undertook construction of a new multifamily residence, the Shelton Eastlake
Apartment Complex.

Right away the development team realized the success of their project hinged on
creating an apartment complex that added both housing and character to the Eastlake community. Multifamily developments have a reputation for focusing on function, rather than form, to maximize profits. An eyesore at the expense of increased housing was not what Seattle wanted in one of its longstanding communities—especially one known for its mix of traditional, European style homes and idyllic houseboats.
To ensure the Shelton Eastlake Apartment Complex was a departure from these often mundane structures and visually tied in with neighboring buildings, Shilshole
Development hired locally based Public47 Architects to create a progressive 61-unit residence that paid homage to its surroundings from the outside in. The developers wanted a mix of brick and another high quality façade on the exterior to set the tone for this modern-meets-traditional structure. The challenge was finding a siding material that was contemporary enough to attract design-forward city dwellers while also seamlessly integrating with the brick aesthetic.

"We wanted the siding to have an overall look and feel of quality. We also needed a product that would blend well with brick," said Mike Yukevich, Principal of Shilshole Development.
The design team found their solution with Trespa Pura NFC® (Natural Fiber Core) exterior sidings, a contemporary form of exterior cladding material. It is a high pressure laminate made from up to 70% natural fibers, impregnated with thermosetting resins. The product comes in several beautiful colors designed for a distinctive look.
The project team installed 9,000 square feet of Trespa Pura NFC® horizontal flush siding on the exterior walls of the apartment complex. The siding's Slate Ebony color is rooted in timelessness, combining deep gray tones with the rich, beauty of wood. Compared to alternative siding materials, it created a much warmer look—one that blended seamlessly with the brick. "There was an overall sense of superior quality," said Yukevich.
Part of that superior quality is the siding's durable, highly color stable and impact-
resistant form. Its closed surface pratically withstands dirt accumulation, keeping the product smooth and easy to clean. Using long-lasting materials with little upkeep like Trespa Pura NFC® was important to Shilshole Develoment. "We try to minimize long term maintenance requirements for each of our projects," explained Yukevich. "Trespa Pura NFC® gave us both a beautiful product and a low maintenance siding option." Its lasting style is what will help ensure the Shelton Eastlake Apartment Complex remains an intriguing addition in the prominent Seattle neighborhood for years to come.
WHY DID YOU SPECIFICALLY CHOOSE THE TRESPA®METEON® PRODUCT FOR THIS PROJECT?
"There was an overall sense of superior quality."

- Mike Yukevich, Principal of Shilshole Development.
Please provide your email address below to download.