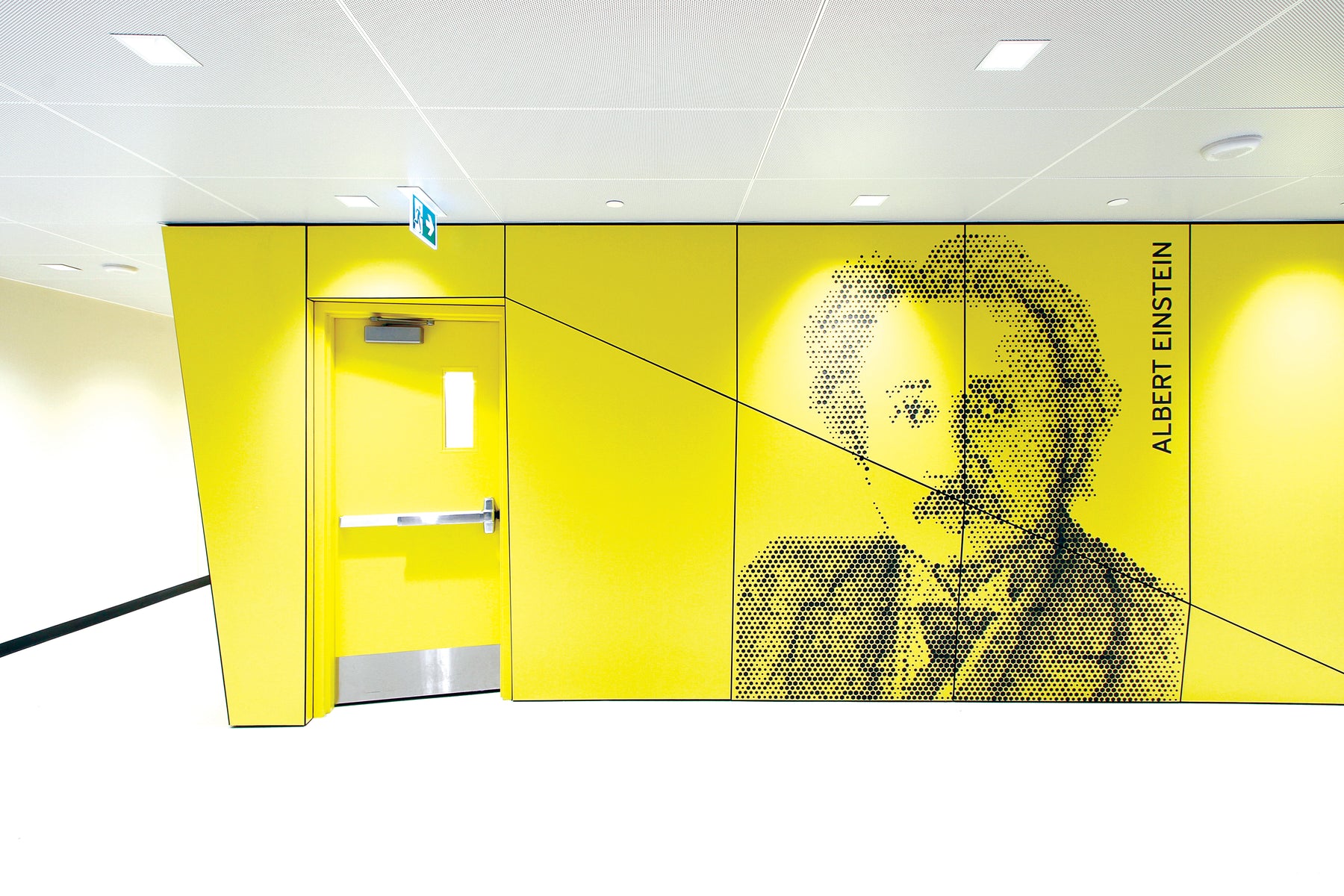 LAVAL UNIVERSITY VACHON PAVILION BUILDING - QUEBEC
HISTORICAL EDUCATIONAL INSTITUTION IN NORTH AMERICA UNDERGOES AN ICONIC MAKEOVER
Laval University is the first French higher education institution in North America and the second oldest university after Harvard, making it an iconic cultural & educational institution in Canada. When this prestigious university community needed some educational inspiration, they chose aesthetically striking and bright panels to accompany the graphics of influential minds in the world. The durability and ease of installation of Trespa despite the irregular shapes of the design added to the overall desired result.
With over 43,000 students attending Laval University and the quantity of students involved within the science departments, it was important to improve the functionality and user-friendliness of the pavilion. The brightly colored core united the vertical circulation of the wing, in an otherwise Very linear and monochrome space. Collaborative spaces have also been proposed on each floor, in continuity with this concept; offering friendly meeting places in strategic locations of the building.
DESIGN
Since the initial sketches of the project, it was determined that a bright yellow would be utilized. Trespa offered a multitude of options that fit the needs of the Pavilion design. The chosen Zinc Yellow and Metallic colours allowed the faceted walls by the staircase to represent the envisioned look, creating a design that aligned with their wishes and had a very prosperous result.
DURABILITY
The development and patent of the Electron Beam Curing (EBC) technology allows Trespa to switch from a melamine surface to a high quality coating system that makes panels more durable and gives a high colour stability. At Trespa, we believe that investing in sustainability serves a greater purpose as it will benefit the long-term position of the company. With this, it has been a priority for us to shift to an environmentally beneficial product that creates additional value and minimizes environmental impact of our operations and products.
WHY DID YOU SPECIFICALLY CHOOSE THE TRESPA®METEON® PRODUCT FOR THIS PROJECT?
"We were looking for a highly resistant wall covering considering the institutional
function of this building as well as a material that could be engraved or perforated to integrate graphics. We also wanted to mark the stairwell and adjacent collaborative spaces with bright color and Trespa® had the exact yellow color we needed. Th ease of installation of the product, given the irregular shapes of the design, was very simple."
- Alexandre Guérin, STGM Architects
Please provide your email address below to download.